Speech, Occupational and Physical Therapy 
At Nature's Edge, we engage nature's calming beauty and the human-animal bond to take speech, occupational and physical therapy to a new level.
Nature's Edge is nestled on a beautiful 65-acre ranch in the heart of Northwest Wisconsin.
Licensed therapists combine conventional treatment methods with innovative rehabilitative strategies that include hippotherapy (using the movement of the horse), horticulture therapy and animal-assisted therapy to accelerate rehabilitation for functional living.
At Nature's Edge, we treat any patient of any age needing speech, occupational, and physical therapy. Patient care is provided through our outpatient services, scheduled by appointment for one-hour treatment sessions, and through our Diane's House intensive program. At Diane's House on the Nature's Edge ranch, a patient and his or her family may stay for visits of up to one week while receiving intensive therapy.
Our Mission
Nature's Edge Therapy Center provides the highest quality of intensive rehabilitation by qualified and licensed staff to our patients and their families in a safe, natural and motivational setting, promoting the human-animal bond. Our ultimate goal is to facilitate our patients' independence and integration into home, school, and society.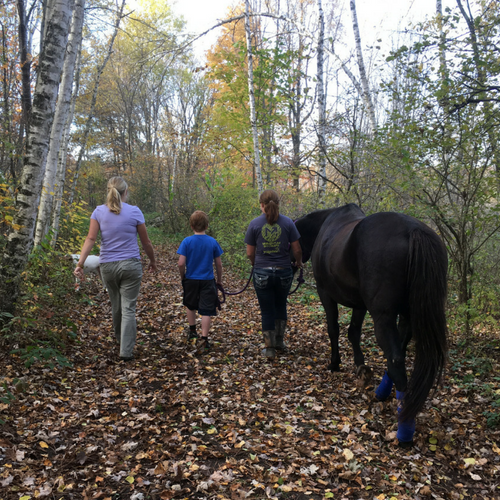 Donate to Nature's Edge
As a nonprofit organization, we rely on the support of people like you to continue our mission of helping patients with disabilities receive effective therapy. Please consider a donation today! To donate, please just click the floating 'donate' button on this page or use the button below!
Upcoming Events
There are no upcoming events at this time.
In the meantime check out the blog...
We may not always have upcoming events on the calendar, especially in the colder months, but we always have something to share on the blog. Check out our articles, posts, and handy information. And don't forget to share it on social media or in an email!
NOW HIRING
Nature's Edge Therapy Center is seeking a licensed Occupational Therapist at our year round facility. Creativity is a must! We utilize a 65 acre ranch using Hippotherapy, Animal-Assisted Therapy and Horticulture therapy. We are a PATH (Professional Association Therapeutic Horsemanship) accredited center. We also have an incredible COTA with experience in Hippotherapy to supervise. As a non-profit, there may be potential for student loan forgiveness. We require a cover letter, resume and 3 professional employment references.
We would love for you to stay up-to-date on all the wonderful things going on at the ranch. If you want news, updates on milestones and events, and ways to help or interact with Nature's Edge, just click the button and we'll send you emails with everything you want to know.