Ready to make a difference?
If you'd enjoy working with kids and animals in a busy ranch environment, please get in touch with us.  We have many opportunities for you to get involved.
Scroll down to find out more about volunteering, internships, employment opportunities, and other ways you can help out or interact at Nature's Edge Therapy Center. We appreciate everyone who makes our mission possible and would love to add you to the family.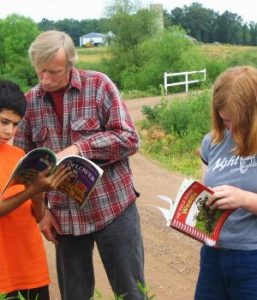 At Nature's Edge, volunteers are always needed for our Wisconsin autism treatment programs and more!
Do you like to garden?
Do you like to spend time with animals?
Do you have organizational skills?
If you answered "Yes!" to any of these questions, we invite you to join our team, enhance your skills and contribute to our success.  Volunteers perform integral roles at our center.  In fact, it would be impossible for us to achieve our mission without them.
Volunteer opportunities include:
 Facility maintenance
 Small animal care and feeding
 New construction
 Large animal care and feeding
 Assisting in fundraising
 Tack care
 Assisting in therapy sessions, including hippotherapy sidewalkers
 General cleaning
 Gardening/landscaping
 Stable attendant
For more information on volunteer opportunities, please contact Nature's Edge Therapy Center.
If you would like to volunteer at Nature's Edge, please complete both the "Volunteer Intake Forms" and the "Background Information Disclosure (BID)" form below and return them to the center.
Download these forms to get started.
Read what our volunteers have to say about us . . .
• This is a great place to volunteer, because the results of your work are so immediately tangible.  The clients and patients work very hard to achieve and respond to so much as a smile and work that much harder.  And the horses and other animals seem to know that they have a higher mission in life.  How can farm animals be so gentle, even the mischievous goat?  This is a well managed operation, and the staff is hard working.  The successes here are large and small.
–Donald Davis, Volunteer
(Donald and his two children have flown in from New York to volunteer, stayed locally and worked with us for the past three years.)
• I enjoyed the privilege of being around all kinds of animals.  With assistants, I have helped to build a greenhouse, a workout area for therapy, a fenced in area and more pasture for the horses. The ducks, pigs, dogs, cats, horses, ponies, and one cow among other animals, I have become a friend to all of them. I have become a friend to many handicapped people. I myself, happen to be handicapped. Working together the others can understand you can do it too.
–Jerry Hazelwood, Volunteer
• I love Nature's Edge because I love working with the animals and I love children.  I also love working with people in general.  The reason why I love the children is because we connect.  Some are funny, sweet and are very curious about the way things work around here.  I personally have gotten to know the animals and some of the people.  I know what they like, and dislike.  I have learned so much, just from watching the barn manager, and the Lundeens themselves.  Nature's Edge is my life.  Thank you Nature's Edge.
–Sam Waggoner, Volunteer
• My first visit to Nature's Edge Therapy Center was to discuss the 4-H Therapeutic riding program.  I ended up staying the day and came home with a volunteer training manual, four training videos, and an application to become a volunteer.  I know I had found a very special place where exciting things were happening and I wanted to be a part of it. I am learning so much from the incredible staff.  They make me feel like part of the team.  Watching the patients relate to the animals has shown me what a perfect form of therapy this is for them.  This is a professionally run program but so human and basic.  Each child and animal is unique and special.  I look forward to my time with them.
–Louise Buchmann, Volunteer
• I have lived next door to Nature's Edge for 6 years and have watched it grow, but it wasn't until this fall that I was able to get involved on a regular basis.  I started by filling in for the barn manager, caring for the animals and handling horses when she was injured and have enjoyed it so much that I am continuing as a volunteer.  I have learned so much from the staff about animals and people.  I am amazed at how the therapists utilize the animals and things in everyday life as tools to help their patients.  You can see the animal-human bond at work and viably see the patient's progress during a session.
–Arlene Poulter, Volunteer
Other Ways to Get Involved
Grant Writing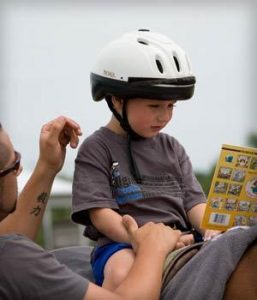 Grants are an important source of support for us, and we are always interested in hearing from anyone who can assist us with writing grants or identifying potential sources for grants.  Please contact us, at [email protected] if you would like to help with our grant program.
Internships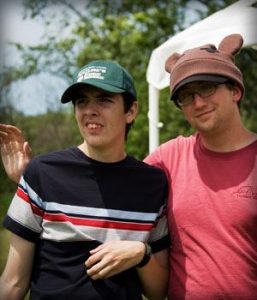 Unpaid internships at Nature's Edge are occasionally available to students pursuing a career in speech, occupational and/or physical therapy.  For more information please contact our director, Becky Payne, at 715-859-6670, or email her at [email protected].
Employment
Full-Time OTR/L
– Nature's Edge Therapy Center is seeking a full-time licensed Occupational Therapist at our year round facility. Creativity is a must! We utilize a 65 acre ranch using Hippotherapy, Animal-Assisted Therapy and Horticulture therapy. We are a PATH (Professional Association Therapeutic Horsemanship) accredited center. We also have an incredible COTA with experience in Hippotherapy to supervise. As a non-profit, there may be potential for student loan forgiveness.  
A professional resume, cover letter, and (3) professional references must be provided to our email prior to determining an interview. Full benefits after 90 days.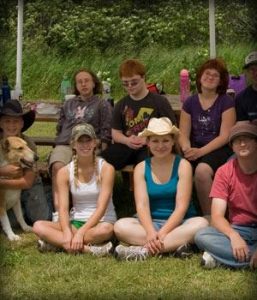 Please call (715)859-6670 for current employment opportunities.