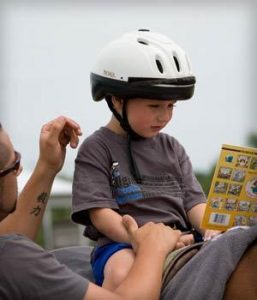 Hippotherapy and equine-assisted therapy are physical, occupational and speech therapy treatment strategies that may be utilized within a therapeutic environment to improve function. Hippotherapy, taken from the Greek word hippos – meaning horse – literally means "treatment with the help of the horse" and refers to the use of the horse's movement to engage the patient's sensory, neuromotor and cognitive systems, promoting functional outcomes. Hippotherapy is used at Nature's Edge as part of an integrated treatment program for many disorders and is especially beneficial for children and young people with autism and/or Asperger's Syndrome.
When hippotherapy is integrated into a treatment plan, the patient is engaged in activities on the horse that are enjoyable and challenging.  The speech, occupational or physical therapist addresses specific functional goals by utilizing different positions for the patient such as sitting or laying forwards, backward or sideways; standing in the stirrups, or riding without using the hands.  The patient may also be asked to stretch, reach or play games while on the horse.  The therapist continuously analyzes the patient's response and adjusts the horse's movement accordingly for optimum treatment benefits.
Safety is of primary importance.  In addition to the speech, occupational or physical therapist with preparation in treatment principles using hippotherapy, a specially-trained handler leads the horse during the therapy session, with sidewalkers on each side of the horse to ensure the patient's safety.
Equine-assisted therapy, in contrast to hippotherapy, usually takes place off the horse, with the speech, occupational or physical therapist using interactions with the horse and patient to carry out specific activities addressing the patient's treatment goals. Examples of treatment goals that may be addressed using equine-assisted therapy include personal hygiene, motor strengthening, social skills, nonverbal communication, sequencing, and memory.
The horses used in hippotherapy and equine-assisted therapy are also specially selected and trained.  At Nature's Edge, we have a variety of horses available, which enables us to match each patient with an appropriate horse in terms of size, pace, gait, and character.
Typical Impairments Addressed by Hippotherapy and Equine-Assisted Therapy
Impairments that may be modified through treatment incorporating hippotherapy and equine-assisted therapy include:
Abnormal tone
Impaired balance responses
Impaired coordination
Impaired communication
Impaired cognitive function
Impaired sensory processing function
Postural asymmetry
Poor postural control
Decreased mobility
Who May Benefit from Hippotherapy and Equine-Assisted Therapy?
Common medical conditions for which treatment that integrates hippotherapy and equine-assisted therapy may be beneficial includes:
Autism spectrum disorders
Cerebral palsy
Stroke
Developmental delay
Down syndrome
Muscular dystrophy
Multiple sclerosis
Spinal cord injury
Traumatic brain injury
Learning or language disabilities
However, we recognize that incorporating horses or the movement of horses is not for every patient.  Our trained therapists evaluate each potential patient on an individual basis.
Please contact us with any questions or concerns…we'd love to talk to you about how treatment strategies such as hippotherapy and equine-assisted therapy may be beneficial to your loved one!