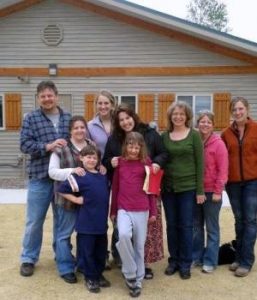 Note:  For general information on Nature's Edge Therapy Center, please refer to the Treatment Programs FAQs.
Q:  What is Diane's House?
A:  Diane's House is a fully accessible, furnished, single-level duplex specially designed to house one family during the time of their loved one's intensive treatment at Nature's Edge Therapy Center.  Families live on one side of Diane's House and participate in treatment sessions on the other side and elsewhere on the 65-acre Nature's Edge ranch.
An integral fundamental in our treatment philosophy at Nature's Edge is the role of families and caregivers. We want to empower families and caregivers to develop and utilize productive strategies and treatment tools in their everyday, daily interactions with their loved one.  Intensive treatment at Diane's House seeks to fulfill this goal by enabling families to stay together and learn together during the therapy visit and to promote carryover of skills and strategies initiated by our therapists to their own homes.  A doctor's prescription for speech, occupational and/or physical therapy is required.
The Diane's House program is flexible and can be designed to fit the family's schedule and needs. A complete visit is scheduled for one week; however shorter time periods are also available and effective. After the patient is initially evaluated by our licensed speech, occupational and/or physical therapists (depending on the therapy prescribed), the individualized treatment plan is finalized.
Throughout the Diane's House visit, individual treatment sessions for the patient are scheduled with our licensed therapists.  In addition, there are family therapy sessions available that are designed to help family members implement treatment plans and strategies developed by our therapists.  Sessions such as Caregiver Education and Training, Meal Planning/Preparation/Dining, Music and Art Enrichment Activities, Community Outing Activities and Social Outing/Dining Group, Hippotherapy (using horses in therapy), Animal-Assisted Therapy and Horticulture Therapy, and Nature Benefits are elements that may be incorporated in the Diane's House visit. Every activity is structured to enable the patient to succeed and to foster continued growth and achievement of therapy goals.
Diane's House staff includes our speech, occupational and physical therapists, all of whom are licensed and credentialed in many areas.  Together, they coordinate the Diane's House visit and supervise other Nature's Edge staff members who provide additional opportunities during the visit.
Q:  What is included in the residence at Diane's House?
A:  Diane's House is a "home away from home" for our families, with many of the latest conveniences and appliances.  Take a photo tour of Diane's House!
The residence has a full kitchen (range/oven, refrigerator/freezer, dishwasher, microwave, toaster oven) and basic food prep and service items (e.g., pots and pans, serving dishes, cutting board, paring knives, peeler, colander, cups, plates, bowls, silverware).  The bathroom features an ADA-approved height toilet, sink, and a tub/shower enclosure.  There is also a stackable washer/dryer.  The kitchen has a table and four chairs, twin sinks and cabinetry for storage.  The sleeping/living area has one full and two twin beds, a couch, a dresser, and a desk and chair.  Linens are supplied for the beds, bathroom, and kitchen.  Basic cleaning tools (such as a mop, vacuum, bucket, broom, and dustpan) are available.
The residence also has a TV/DVD player.
Q:  What should we bring with us?
A:  Because families may have specific sensitivities to products, we ask that each family be responsible for bringing their own laundry washing products, food (other than lunches, which will be provided as part of therapy), and toiletries (shampoo, conditioner, bath soap, etc).  You should also bring your own laptop computer and any electronic gaming devices, CDs, DVDs, etc. your family enjoys.
In summary, please feel free to bring whatever you need to make your family feel comfortable here.   If you are not sure if something may be included in the home or not, please call us and we will be happy to let you know.
Q:  If we forget to bring something, are there shopping centers nearby?
A:  Yes.  Nature's Edge is located near the communities of Rice Lake and Cameron.  Rice Lake has a mall, a large hospital complex (Marshfield Clinic), Walmart, Marketplace Foods, and many other chains and locally owned restaurants and businesses.
Q:  What is not allowed at Diane's House?
A:  Smoking/tobacco and illegal drugs of any kind are not tolerated or permitted on any part of the property of Diane's House or Nature's Edge Therapy Center.  Tampering with smoke detection devices is not permitted.
Personal pets are not allowed at Diane's House or Nature's Edge Therapy Center.
Q:  What is the cost for Diane's House at Nature's Edge Therapy Center?
A: The cost of the Diane's House visit is prorated according to the length of the treatment scheduled. Please contact us for more information. 
Families are responsible for their own breakfast, dinner and transportation costs, as well as their family costs for Social Outing/Dining Group Treatment options.   Lunches are prepared as part of therapy and are included in the fee.
A deposit of 50% of the fee is due at the time of registration, with the remainder due on the first day of the program.
There is scholarship help available for families with financial need.  Click here for more information on scholarship funding.
Q:  Will insurance cover therapy at Diane's House?
A:  Some insurances provide coverage for intensive therapy. Please contact your insurance company. Often, at least the Diagnostic Evaluation and individual therapy sessions can be submitted to your insurance company. Our billed rates are as follows:
$350 per Diagnostic Evaluation (whether by a Speech, Occupational, or Physical Therapist)
$175 per session (whether Speech, Occupational, or Physical Therapy)
Nature's Edge office staff will be happy to assist you with completing a prior authorization request or submitting a claim.
Q:  What are the "check-in" and "check-out" times for Diane's House?
A:   Check-in time is anytime after 3:00 pm CST on the day prior to the start of your stay at Diane's House.  Check-out is by 11:00 am CST on the last day of your stay.
Q:  What if some damage occurs at Diane's House while we are there?
A:  We understand that this is a valid concern for families of children with special needs.  We have built and decorated the home with provisions for more durability such as wainscoting on walls, ceramic tile in the bathroom and vinyl tile and durable commercial carpeting for the remainder of the flooring.  Even though these are in place, we realize that accidents and damage may still occur.  We ask you to notify us immediately should there be any damage to our property.  We can address each situation on a case-by-case basis.
Q:  What about parking or using our vehicle on the property?
A:  Nature's Edge and Diane's House are located on 65 acres of beautiful country property, complete with rolling hills, a pond, and trout stream.  We have a very long driveway that is sometimes walked by our animals and patients, as well as a play area that is located next to the driveway.  We, therefore, ask that our 10 MPH speed limit be observed at all times on our property.  In addition, parking is permitted in three areas:  at Diane's House, at the house for the Nature's Edge Therapy Center's office and by the barn (some restrictions do apply when parking at the barn for fire codes).
Q:  Can we bring bicycles, and/or take walks on your property when not in treatment sessions?
A:  Yes, of course.  We have field groomed trails on our property, and bikes can be ridden on our driveway.  We also have playground equipment (trampoline, swing set, sandbox) that can be used by families.
Q:  I have a loved one who would benefit from an intensive therapy program like this.  How do we make reservations at Diane's House?
A:  Contact us to secure your intensive therapy experience which includes the use of Diane's House.  New Patient Intake Forms will need to be submitted and approved prior to confirmation of your reservation for an intensive therapy visit at Diane's House.
Here is some additional helpful information to consider:
Patients seeking to come to Diane's House must be at least two years of age or older.  There is no maximum age.
We welcome any treatment diagnosis at Nature's Edge; however, our areas of specialty are autism, traumatic brain injury and cerebral palsy.
Because this is a medical intervention, a doctor's prescription for speech, occupational and/or physical therapy must be provided.
Daily breaks are incorporated as part of the Diane's House treatment schedule to provide "down time" for the patient and family to spend private time together.
The Nature's Edge ranch is home to many animals, as well as horticulture areas, all of which are incorporated into treatment.
Truly unique therapy for autism and other disorders
Have more questions? Please contact Nature's Edge Therapy Center for more information about Diane's House, our intensive Wisconsin treatment program for autism, brain injury, cerebral palsy and similar disorders.